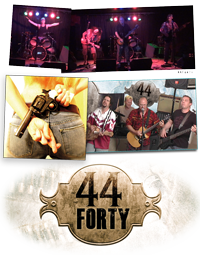 .44 Forty fires out straight up rock and roll. From Albuquerque, .44 Forty maintains a lyrically driven repertoire of original songs–occasionally lascivious, always good hearted.
Guitarist/lead singer Yancy Jubal and mandolin/guitar player Dan Otero share an interest in single action.44-40 caliber revolvers–hence the band name. Holding down the advanced rhythms are Pat Andrews and Jerzy on bass and drums, respectively.
To quote 44 Forty fan: ".44 Forty sounds like the day Johnny Cash and Phish found a mandolin in a cave."
Find 44Forty on Facebook – YouTube – ReverbNation
".44 Forty brings heart-felt lyrics cutting through their groovin' "Desert Rock" sound–amplified with some tasty over-driven mandolin! I love playing with these guys." – Chris Kill, NM Award winning musician.